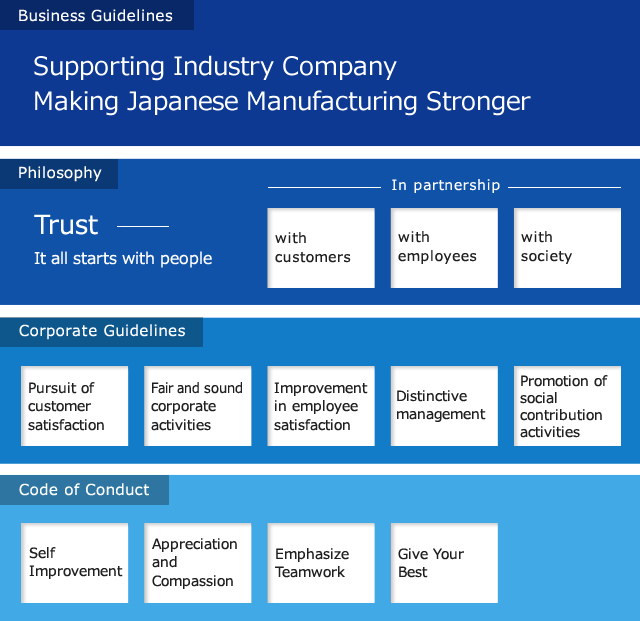 Corporate Guidelines
Pursuit of customer satisfaction
Always consider the customer's perspective, strive to personify our expected function, and earn customer trust and satisfaction.
Fair and sound corporate activities
Conduct open and fair corporate activities in compliance with laws and company regulations, and in line with high ethical standards.
Improvement in employee satisfaction
Create workplaces where dreams and pride are possible, underpinned by respect for employee diversity, personalities and individuality, along with mutual trust and cooperation.
Distinctive management
Backed by autonomous, independent and employee-facing management, create your own happiness through business.
Promotion of social contribution activities
Actively promote social contribution activities as a good corporate citizen walking in step with communities and society at large.
Code of Conduct
Self Improvement
With your ideal self or vision in mind, face challenges daily to infinitely expand your potential.
Appreciation and Compassion
Strive for well-mannered, orderly conduct, with a sense of appreciation and compassion for others always in mind.
Emphasize Teamwork
Come together in cooperation and demonstrate teamwork, with communication and harmony in mind.
Give Your Best
Pursue every possibility and give it your best, always opting for the most suitable approach and behavior.